GReddy Turbo Timer
If you have a turbocharger-whether it's factory, added or upgraded–the Turbo Timer should be included in your budget under the category: "peace of mind." The Turbo Timer allows you to leave your vehicle while the timer leaves your engine running anywhere from 10 seconds to 9.99 minutes. The gradual cool-down prevents bearing damage that can occur when a turbocharged engine is shutdown abruptly after normal driving. "Spirited" driving and its more extreme temperatures would be even worse.
The turbo's bearings rely on a generous supply of clean engine oil. All oil pressure is lost when the engine isn't running. With temperatures of about 250F/106C-and at the turbine shaft, 300-350C (540-630F)–a hard, destructive varnish or "coke" can orm on the bearings or seals. With the one-quarter DIN-sized GReddy Turbo Timer tucked in an unobtrusive location, you can leave and lock your car with confidence. No "baby-sitting" your prized machine or being late to work or a movie.
HKS Turbo Timer&Rebic III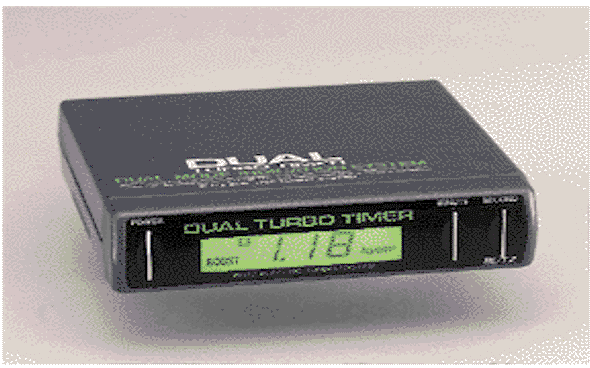 WWhen a turbocharger and intercooler deliver more air to the engine, more fuel is needed to extract the potentialpower-especially in street/strip/race applications. The Rebic III is an auxiliary fuel-injector controller that works independent of the factory electronic control unit. GReddy's "black box" can be used in any forced-induction setup to supply more fuel under high boost. The Rebic III maintains safe air/fuel ratios, while supplying up to eight additional injectors. Its modular designs lets you use the Rebic III with other GReddy control devices. We've found, to our delight, that enthusiasts rave about the Rebic III's graphical, dynamic user-interface and how it adds a "cool" factor to even the best interiors. Who says engineering has to be boring?